Kongsberg Package for Awilco Newbuild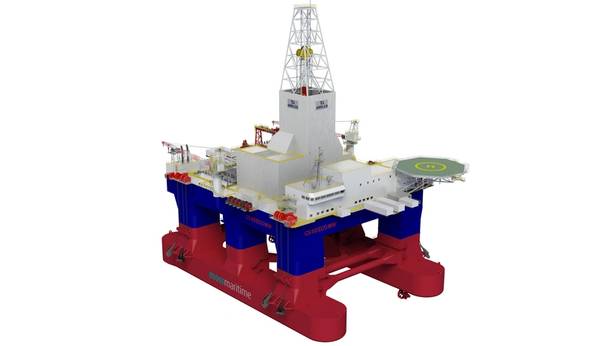 A new, state-of-the-art semi-submersible drilling rig being built by Keppel Offshore & Marine for Awilco Drilling will feature an integrated equipment suite from Kongsberg Maritime.
Kongsberg said the milestone order from Keppel is its first for a project combining its control and electrical systems with power, propulsion and mooring solutions. The entire deal is valued at approximately MOK 350 million ($40.2 million) in total, it said.
The newbuild is the second Awilco Drilling owned Moss CS60Eco semi-submersible drilling rig being built by Singapore's Keppel Offshore & Marine, due for completion in March 2022.
The Kongsberg delivery scope includes diesel engines, high torque thrusters, mooring system, hybrid power system with advanced battery technology, thruster drives, drilling drives and energy management systems, which combined will contribute to lower opex costs and reduced fuel oil consumption and minimized CO₂ and NOx emissions.
The operational technology package includes further cost reducing elements including condition monitoring of rotating machinery and an advanced information management system. As part of this, the rig will also be equipped with Kongsberg's ECO Advisor system with built in guidance to help operators make optimal decisions for set up of the complete power plant.
Kongsberg said it plans to deliver its technology and equipment package during the second and third quarters of 2020.