Political instability, insecurity and marine boundary disputes pose some of the major challenges constraining progress of Africa's upstream offshore oil and gas exploration ambitions at a time when the continent expected to ramp up production from its deep and ultra deepwater investments.
Although the ramifications of an uncertain political climate, boundary disputes and safety issues are not new in Africa's oil and gas industry, these challenges have, however, derailed a number of projects that probably would have seen the continent grow its proven oil and gas reserves from the current 126.5 billion bbl, and 487.8 tcf respectively as more producing fields reach maturity.
"Political and regulatory instability is an issue," says James Josling Head of Africa Oil Trading Trafigura Group Pte Ltd in an interview with international consultancy firm PricewaterhouseCoopers (PwC)
"When developing infrastructure projects, you need to know that the regime is stable, that people will honor contracts and deals, and that you have a fair legal system to contest any disputes," he said, adding that because of these concerns "many infrastructure projects are often delayed or don't happen."
Political happenings in countries such as Madagascar, Egypt, Gabon, Algeria, Sierra Leone, Egypt, Cameroon, to name but a few, have delayed planned auction of suspected high potential offshore blocks or forced some of the exploration and production companies to delay their planned investment plans at a time when PwC says oil and gas capital expenditure declined by 42% for the four years leading to 2018.
In Egypt for example, where two significant licensing rounds are anticipated, the political uncertainty has gone a notch higher after the country controversially voted to amend the constitution paving way for extension of the term of office for President Abdel Fattah Al Sisi.
The country's National Elections Authority announced that 44.3% of the 61 million eligible voters turned out to vote in the referendum with 88.83% of them approving constitutional amendments that could see Al Sisi remaining in office until 2030.
Egypt had earlier announced plans to offer the Western Mediterranean acreage for auction this year although the government has opened a new front of direct negotiation with potential exploration companies keen on having a share of the offshore blocks. Additional offshore opportunities are expected to be available when the frontier Red Sea acreage will be open for bidding by both domestic and international investors.
Elsewhere in Madagascar, the newly elected President Andry Rajoelina earlier this year suspended the Morondava Basin Licensing Round after many months of promotion of the planned auction of 44 offshore blocks by Madagascar's state-owned petroleum agency OMNIS in partnership with geophysical service providers TGS and BGP.
The suspension of the licensing round of offshore blocks, said to be located in a zone known to be rich in heavy-oil deposits, comes at a time when Madagascar is grappling with delayed amendments to its Petroleum Code. Although the deferred bid window was to be carried out under the fiscal terms outlined in the existing 1996 Petroleum Code, it is not clear when Rajoelina plans to have the amendments approved first before the auction is allowed to proceed. It was initially slated for November 2018 to May 2019.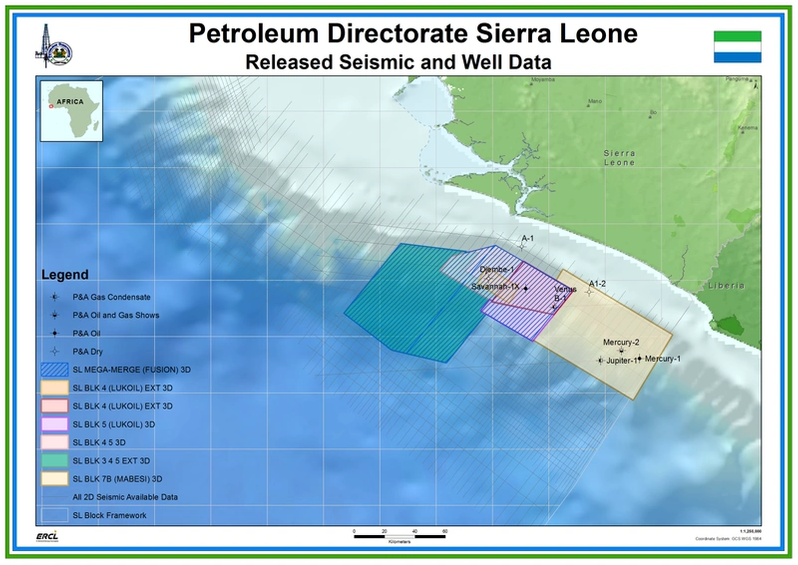 Sierra Leone seismic wells and data (Courtesy Sierra Leone Petroleum Directorate)
In West Africa, Sierra Leone went for presidential elections in March 2018 with spillovers being seen throughout the years with some attributing the suspension of the country's 4th licensing round slated for September of the same year to the prolonged re-organization of the government after former President Ernest Bai Koroma stepped down at the end of his two five-year terms. His preferred successor Samura Kamara was defeated by former coup leader Julius Maada Bio of Sierra Leone People's Party, the main opposition group in the country.
As expected President Bio appointed his preferred choice, Timothy Kabba, to the position of Director General of the Sierra Leone Petroleum Directorate, with the new boss saying he will pursue the "Government's New Direction initiative."
"Mr Kabba brings fresh perspectives to the current Fourth Sierra Leone Licensing Round," said a statement by the Directorate.
"He has decided to expand the dialogue and enter a period of industry consultation process (which) is expected to last for up to 6 months and requires the temporary suspension of the ongoing Fourth Licensing Round," the August 2018 statement said.
The suspended licensing round involved five contract areas featuring Sierra Leone's new block system "including the areas of undeveloped discoveries from previous drilling campaigns, shallow water and deep- ultra deep water."
Similar trend has been observed in Gabon where an attempted coup early this year against the government of President Ali Bongo forced the country's Ministry of Oil and Hydrocarbons to delay the eagerly awaited amendment to the country's 2014 Hydrocarbons Code. The country opened its 12th Shallow and Deep Water Licensing Round on 7th November 2018 with the bids expected close in September 2019 from the earlier intended April 2019. The acreage on offer includes 12 shallow water and 23 deep-water blocks. The round closes at the end of September 2019.
Spates of insecurity in Somalia, which had offered 15 offshore blocks during the first licensing initially slated for February 2019, and increasing political tensions in South Africa, Algeria and Sudan, could further hamper growth of Africa's offshore oil and gas market despite analysts predicting a promising future for the continent's hydrocarbons sector on the back of recovering global oil prices, embracing of new technology and increased capital expenditure by daring oil majors willing to take the high risk and invest in the continent's lucrative but costly deep and ultra deep waters.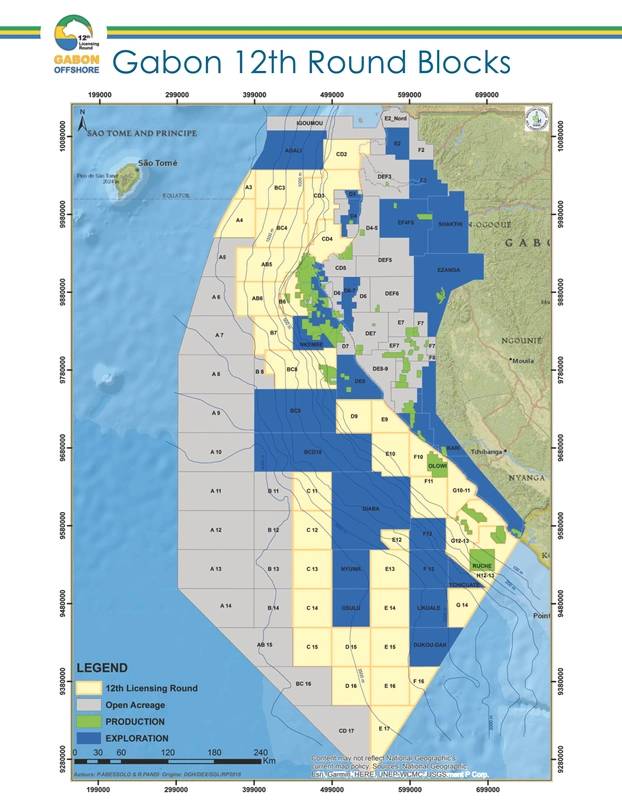 Gabon's offshore blocks for auction during the 12th licensing round (Courtesy Ministry of Oil and Hydrocarbons)