Cortland has provided synthetic rope slings for the Norther offshore wind project in Belgium to support the lifting of monopiles, transition pieces and turbines.
According to a press note from the Actuant Corporation group company which designs, engineers and manufactures high performance rope and cable solutions, the Norther Offshore Wind Farm, one of Europe's largest offshore wind farms, will feature 44 turbines, each 8.4 MW, when completed near Belgium's coast at Ostend later this year.
Global synthetic rope slings specialist Cortland was selected to support the lifting of monopile, transition pieces and turbines for the project.
High-performance synthetic materials, some of which are eight times as strong, weight for weight, as traditional steel wire rope, have increasingly been used to reduce risk in heavy lifting operations onshore and offshore.
Across industries, including oil and gas, marine and subsea, these products are known for their light-weight properties, strength, and ease of shipping and handling. Cortland has completed installations that would typically take a day in a matter of hours through labor savings and by removing the need for crane support.
The project for the windfarm saw Cortland deliver one of its largest orders to date. The lifting and rigging equipment included seven Selantic slings of 20 meters, 40 meters and 60 meters, with respective capacities of 2,500 metric tons, 1,900 metric tons and 2,000 metric tons, and three Plasma grommet slings.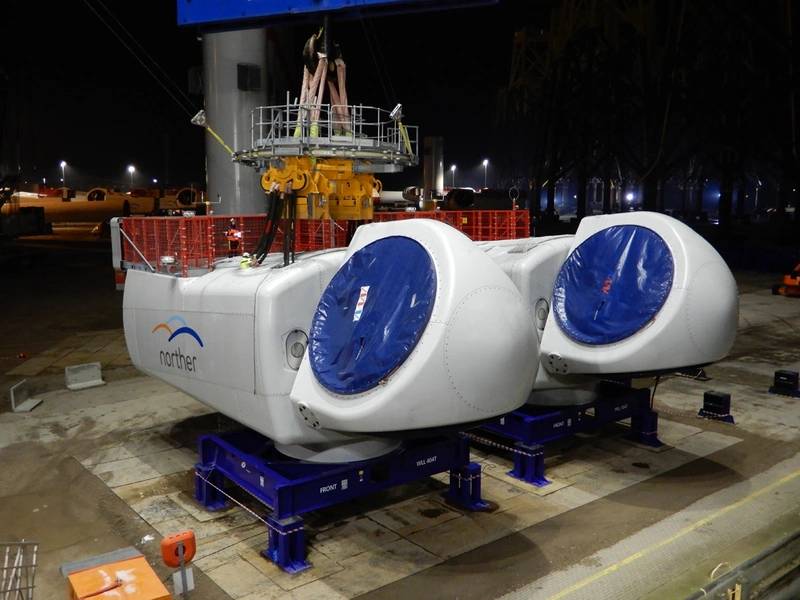 (Photo: Cortland)
Cortland's European sales leader, Wilco van Zonneveld, said, "Delivering one of our largest orders to date was an exciting challenge taken on by the team. Being part of Norther Offshore Windfarm, one of the key infrastructure projects currently under development in Europe, allowed us to once again prove the capabilities of high-performance synthetics at scale.
"Synthetics are currently being used on wind farms at North Sea sites in Belgium, the Netherlands, Germany and the UK. Reducing risk during lifting operations is a critical priority across industries, including construction, oil and gas and renewables.
"We have extensive knowledge and experience working with high performance materials, such as Aramid and High Modulus Polyethylene (HMPE), which provides our slings with qualities suitable for these lifts, including strength, durability and low-weight. When used in sling products, they are easy to handle and do not cause damage to painted surfaces through abrasion."
Once complete, Norther will be connected to the Belgian power grid, providing enough power for 400,000 homes annually.