With the oil and gas market heating up in Brazil, many foreign service providers are looking to set up shop in Brazil with an eye on new opportunities.
Although the South American country's main attraction will continue to be exploration and production (E&P) in post-salt and pre-salt acreage, other significant opportunities will be on offer. One niche will be the decommissioning of various offshore structures, from deactivated subsea infrastructure to rusting rig legs to whole rigs and floating production storage and offloading units (FPSO).
As many of Brazil's offshore production units are aging, especially in the Campos Basin, decommissioning in Brazil will be an important market which will last for decades. Of more than 160 offshore production rigs in Brazil, 67 have been in operation for longer than 25 years and will soon need to be decommissioned. Another 24 rigs have between 15 and 25 years of use and around 70 rigs have less than 15 years of use.
Some of the decommissioning areas that will be in demand include fixed oil platform disposal; creation of artificial reefs, well abandonment, pipeline removal, FPSO and floating storage and offloading unit (FSO) and riser/flowline removal, waste and effluent management for exploration and production activities, environmental licensing for decommissioning projects, decommissioning plan elaboration, subsea decommissioning and engineering dismantling of offshore structures and ballast water and bio invasion. The exiting new market in Brazil's offshore industry will certainly attract foreign companies with expertise in production unit and subsea systems decommissioning.
Brazilian oil and gas regulator the National Petroleum Agency (ANP) is in the process of revising guidance on issues related to decommissioning, including the revision of ANP Resolution No. 27/2006, and the decommissioning process should begin in earnest once these revised guidelines are established. The revision of the this ANP Resolution will present new obligations to operators that are likely to flow into services associated with finding innovative technical solutions, engineering studies, risk analysis and socio-environmental assessments, inspection and monitoring services, and waste management solutions.
(Photo: EAS)
The availability of vessels, port facilities and support, waste management chain (including NORM / TENORM) may be restrictions on decommissioning, depending on the demand for projects that will be presented for the coming years. Possibly, new demands for services will arise due to governmental incentives to reuse facilities for other purposes, in addition to those related to the oil and gas industry, such as artificial reefs (old vessels and ships can be used along with rig structures, once decontaminated), wind, wave and tide energy generation, tourism, research, among other possibilities.
Considering the incipient stage of the decommissioning industry in Brazil, collaborative efforts between operators, representatives of the service industry, universities and government are imperative and can be beneficial to all parties involved.
Petrobras has submitted a small number of decommissioning projects for ANP's evaluation. The state company has also issued a request for information (RFI) to companies specialized in decommissioning projects. More than 100 companies from several countries around the world responded to Petrobras' RFI. The tender date has not yet been seen.
Industry sources estimate that Petrobras will need to decommission at least 67 units in the short to the medium-term. As this new challenge arises in Brazil's offshore industry, global companies with expertise in offshore/subsea decommissioning looking for new business can be encouraged to explore business opportunities in the country, with the possibility of a new horizon with less government meddling, less taxation, streamlined environmental licensing and with government and regulatory support.
Some of the facility deactivation programs under analysis in the SSM* / ANP:
P-07 (Bicudo–Semisubmersible)
P-12 (Linguado–Semisubmersible)
P-15 (Piraúna–Semisubmersible)
P-33 (Marlim–FPSO)
FPSO Cidade do Rio De Janeiro (Espadarte)
FPSO Piranema Spirit (Piranema)
Some of the facilities disabling programs approved by the ANP:
FPSO Brasil (Campo de Roncador)
FPSO Marlim Sul (Campo Marlim Sul)
Cação Field (three rigs)
* - Superintendence of Operational Safety and Environment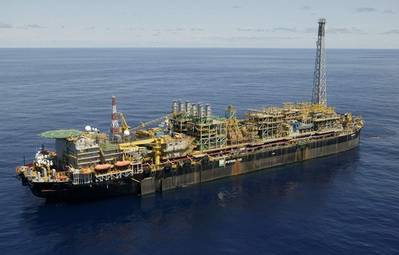 FPSO P33 (Photo: Petrobras)