Norwegian based Optime Subsea said it has been selected by Aker BP to provide well access system and services on the Norwegian continental shelf (NCS) for the next two years, with extension options.
Aker BP will in the next two years use Optime Subsea's Subsea Controls and Intervention Light System (SCILS) and related services, for its well access operations on the NCS. The system will be deployed this spring on Aker BP's Jette as part of their plug and abandoment operations and Skogul for its installation campaign.
"Using Optime Subsea's SCILS ties well into our strategy of continuing improvement and optimization of our well access operations," said Mads Rodsjo, VP D&W Functional Excellence in Aker BP. "The SCILS offers both cost savings and improved safety in mobilization, operation and customization towards our subsea wells."
Optime Subsea said the value of the contract is confidential, but the company's CEO Jan-Fredrik Carlsen said the deal represents a catalyst for the company.
"Aker BP and similar operators are often the driver for introducing new and more optimized technology in our industry. So, without disclosing a dollar amount, the value is substantial for Optime Subsea," Carlsen said. "I would go as far to say it is a milestone for all such well access operations throughout the industry. There is now a field proven system that considerably reduces the time, personnel, space and cost compared to other existing solutions."
Optime Subsea first announced SCILS as a system to help optimize the future of well access operations during the Norwegian oil and gas conference, Subsea Valley, in 2017. At the same conference the following year, SCILS was revealed as a solution to the industry's demand in solving today's and future need for safer, simpler and more cost efficient operations. In 2019 the SCILS will the be in operation.
Carlsen said, "For us, innovation is about simplicity. The advantages found in this system are modularity and standardization. We have therefore already started building similar SCILS, which are ready this summer. We believe these systems will support global operators similar to Aker BP, as well as it contributes to improving our collaboration with the larger international system service providers. Normally, when new systems such as this are introduced, it opens new market opportunities. SCILS have increased functionality, but such a signfiicant reduction of space that we also believe rig providers and operators would want one or two permanently available on rigs globally. This would benefit the efficiency across the industry."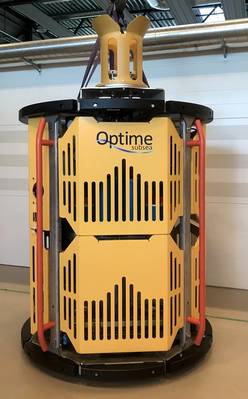 SCILS being prepared for Aker BP's operation (Photo: Optime Subsea)