French oil major Total has started drilling the Brulpadda-1AX re-entry well on Block 11B/12B offshore South Africa.
The news was announced Thursday by Canadian oil and gas company Africa Energy Corp., who holds a 4.9 percent percent effective interest in Block 11B/12B. Total is the operator and has a 45 percent interest in the block.
Block 11B/12B is located in the Outeniqua Basin approximately 175 kilometers off the southern coast of South Africa and covers an area of approximately 18,734 square kilometers with water depths ranging from 200 meters in the north to 2,000 meters in the south. The Lower Cretaceous Post-rift Paddavissie Fairway, which contains the Brulpadda Prospect, is located within the block's southwest corner.
The Brulpadda Prospect is one of five similar submarine fan prospects with direct hydrocarbon indicators defined utilizing 2D seismic surveys acquired across the Paddavissie Fairway in 2001 and 2005. The Brulpadda Prospect has gross prospective resources of more than 500 million barrels with significant follow-on potential in the success case.
Total's first attempt to drill the Brulpadda Prospect in 2014 was suspended prior to reaching target due to difficulties experienced by the drilling rig in the harsh deepwater environment. Since then, the operator has worked hard to identify the best solution to re-enter and drill the Brulpadda-1AX well in strong ocean currents. In July 2017, Total contracted Odfjell Drilling's Deepsea Stavanger semi-submersible rig to re-enter Brulpadda-1AX.
The Brulpadda-1AX exploration well is being drilled in 1,432 meters of water to a total depth of 3,420 meters subsea. The well will test the oil potential in a mid-Cretaceous aged deep marine fan sandstone system within combined stratigraphic/structural closure. Drilling and evaluation of the well is expected to take approximately 85 days with a gross budget of approximately $154 million, including contingency for downtime due to weather.
Garrett Soden, Africa Energy's President and CEO, commented, "The Brulpadda-1AX exploration well is a world-class, basin-opening opportunity in one of the last under-explored regions offshore Africa. We look forward to drilling results in the first quarter of 2019."
Africa Energy holds 49 percent of the shares in Main Street 1549 Proprietary Limited, which has a 10 percent participating interest in Block 11B/12B. Total, as operator, has a 45 percent interest in the block, while Qatar Petroleum and Canadian Natural Resources Limited have 25 percent and 20 percent interests, respectively.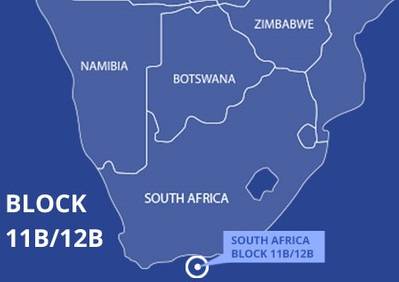 (Image: Africa Energy Corp.)