Africa's second largest crude producer Angola and France's Total officially inaugurated a new deep-sea oil field worth $16 billion in the Atlantic approximately 260 kilometers from the capital Luanda.
The Angolan State Minister for Economic and Social Development, Manuel Nunes Junior, the Chairman and CEO of Total, Patrick Pouyanné, and the Chairman of the Board of Directors of Sonangol, Carlos Saturnino, inaugurated the Kaombo project, which came on stream in July and is located in Block 32, in waters of about 2,000 meters.
During the ceremony, Total also announced the continuation of its development program in the country, following on from the launch of the Zinia 2 project in May.
The group, along with its partners, has notably taken two investment decisions on Block 17, located deep offshore 150 kilometers off the coast of Angola, to develop satellite fields that will be tied back to existing infrastructures and will quickly bring additional production. Total said it plans to drill 13 wells on block 17 to maintain production of 400,000 barrels per day of crude until 2023.
Total said the wells, which will connect marginal fields to existing floating platforms, would be divided between two projects:
The CLOV phase 2 project, which requires the drilling of seven additional wells, with first oil expected in 2020 and a production plateau of 40,000 barrels of oil per day (bopd).
The Dalia phase 3 project, which requires the drilling of 6 additional wells, with first oil expected in 2021 and a production plateau of 30,000 bopd.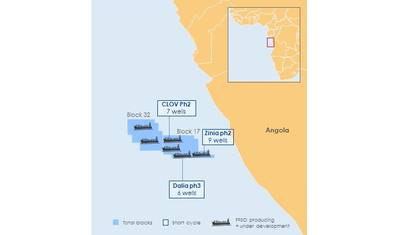 (Image: Total)
The first FPSO, Kaombo Norte, came on stream in July 2018, with a production capacity of 115,000 bopd. The start-up of the second FPSO of similar capacity, Kaombo Sul, is expected next year. The overall production will reach an estimated 230,000 bopd at peak and the associated gas will be exported to the Angola LNG plant.
A total of 59 wells will be connected to the two FPSOs, both of which are converted very large crude carriers (VLCC), through one of the world's largest subsea networks. Together, they will develop the resources of six different fields (Gengibre, Gindungo, Caril, Canela, Mostarda and Louro) over an area of 800 square kilometers in the central and southern part of the block.
"As Angola's principal oil partner, Total is proud to inaugurate such a major deep offshore project as Kaombo, which started up production in July and marked a new milestone of our history in the country," stated Patrick Pouyanné, Chairman and CEO of Total.
"I would like to recognize the leadership shown by the Angolan President, João Lourenço, and the joint efforts of the authorities, Sonangol and the industry to enhance contractual framework, which is an essential step towards developing new projects. The sanction of these new projects today demonstrates Total's ongoing commitment to Angola and to the continued development of oil and gas resources in the country."
Total operates Block 32 with a 30 percent participating interest, along with Sonangol P&P (30 percent), Sonangol Sinopec International 32 Limited (20 percent), Esso Exploration & Production Angola (Overseas) Limited (15 percent) and Galp Energia Overseas Block 32 B.V. (5 percent).