Cadeler A/S published its interim financial report for the first half of 2023 presenting a positive result exceeding the guidance projected for the fiscal year 2023. Revenue in the first six months of 2023 was EUR 68 million, which is an increase of 57% against the same period last year. Adjusted EBITDA for the first half of 2023 was EUR 44 million, which is a EUR 21 million increase compared to the same period last year. EBITDA for H1 2023 was EUR 42 million.
Profit for the period is EUR 29 million, which is EUR 19 million higher than the same period in 2022. This is mainly driven by the growth in revenue, partly offset by the increase in headcount, transaction costs and investments in vessel upgrades.
Market demand continues to be strong and in the first half of 2023, the company's fleet achieved 100% utilization.
Market rates have been higher this year compared to last year and the gross margin for the first half of 2023 was 63%, compared to 46% for the same period last year.
In June, Cadeler A/S entered into a business combination agreement with Eneti Inc. Cadeler, as the continuing company, will be listed on both the New York Stock Exchange (NYSE) and the Oslo Stock Exchange (OSE). This will position the company as a robust player in the market, enabling the company to pursue larger and more complex projects in the offshore wind industry. The combined group will operate four existing vessels, with six newbuilds scheduled for delivery from 2024 to 2026, giving it a diverse and agile fleet consisting of 10 vessels.
"Our strategic partnership with Eneti has cemented our position as the preferred partner for the offshore wind industry," said Mikkel Gleerup, CEO at Cadeler. "The agreement will offer our customers access to the industry's largest, most diverse, and modern fleet of next-generation offshore windfarm installation vessels."
In April 2023, Cadeler signed two major contracts with Ørsted for the Hornsea 3 offshore wind farm with a combined value of EUR 500-700 million. One of them will be the installation of wind turbine generators for half of the Hornsea 3 windfarm. Other contracts signed this past half year include the contract with Siemens Gamesa to install 26 WTGs at the Aflandshage wind farm in Denmark in 2026.
Cadeler increases revenue guidance for 2023. This is expected to be between EUR 95 to 103 million, which is due to clients calling more options within the contracts. The company is also providing guidance for adjusted EBITDA, which is expected to be within the range of EUR 41 to 49 million.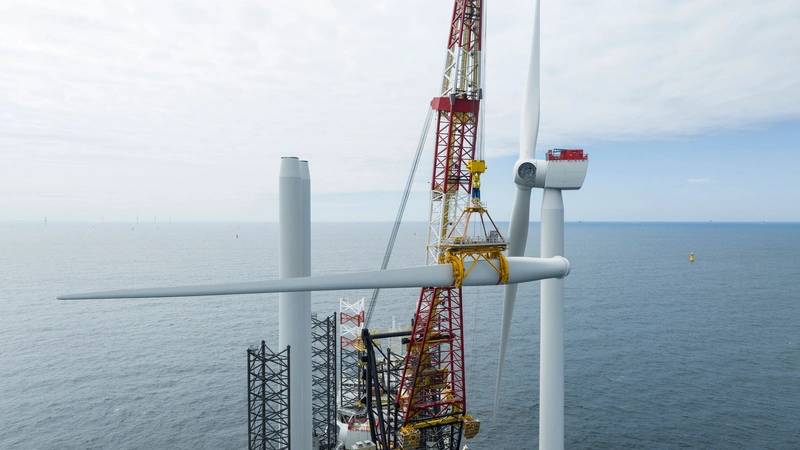 Image courtesy Cadeler