A renewable energy technology consortium has secured £1.5 million funding to what they say is "the world's first offshore charging station within a UK wind farm."
The funding was awarded as part of the UK's Department for Transport and Innovate UK's £60 million Clean Maritime Demonstration Competition (CMDC) grant.

Project leaders Oasis Marine, who specialize in marine charging solutions, have partnered with power electronics and rapid charging specialist Turbo Power Systems and, Verlume, an intelligent energy management and storage technologies specialist, and the Offshore Renewable Energy (ORE) Catapult to deliver the solutions called the "Offshore Charging Station."
This smart energy storage and charging infrastructure will enable fully electric maritime operations within offshore wind farms, the companies said in a joint statement Thursday.
Two-year project
During the two-year project, offshore charging infrastructure will be developed for charging hybrid and electric crew transfer vessels (CTVs) and will be demonstrated over two phases.
The first will prove the transfer of power using Verlume's battery and intelligent energy management technology, to charge a vessel via the Oasis Power Buoy while at sea.
Wind-powered buoys to Charge Crew Transfer Vessels
During the second phase the project will work with Vattenfall regarding technical and regulatory developments, aiming to lead to an on-turbine demonstration at Vattenfall's European Offshore Wind Deployment Centre (EOWDC) within Aberdeen Bay.
AC power generated by the existing wind turbines will be supplied via Turbo Power Systems high power charging solution to the Oasis Power Buoy.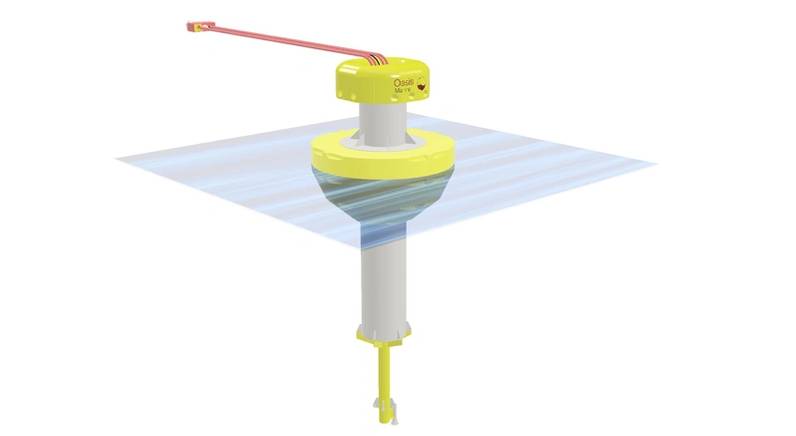 The Oasis Power Buoy ©Oasis

During the demonstration a hybrid CTV would operate from Aberdeen Harbour to the wind farm, to then connect and recharge from the Oasis Power Buoy whilst waiting in field as maintenance technicians work on the turbines.

"A major barrier for the decarbonisation of the maritime sector is the range and duration at which electric and hybrid vessels can operate. Currently, vessels can only be charged within ports, and most wind farms are too far from shore to allow journeys to be fully completed on battery power. Enabling offshore charging from a zero-emission energy source will allow CTVs to operate on electric power for the majority of the time, extending operational range and significantly reducing emissions. This breakthrough technology will enable full electric operation in the future," the companies behind the technology says.

George Smith, Managing Director at Oasis Marine said: "The ability to re-charge vessels offshore is crucial for decarbonising maritime. Initial sea trials of the Oasis Power Buoy were conducted in early 2022 and this CMDC funding allows for progression to full infrastructure testing. We are grateful to be working with valued project partners to ensure that comprehensive developments will be made. This technology promises to enable major carbon reductions and is a very encouraging development for the overall maritime industry to accelerate opportunities and confidence in electric and hybrid vessels."

The infrastructure is building on the previous development of Oasis Marine's Power Buoy. Turbo Power Systems will design, build and test a high-power DC power supply for the conversion of power from the wind turbine to the charging unit. Verlume will provide its energy storage expertise, supplying a modular battery energy storage system with integrated intelligent energy management to enable early testing and ORE Catapult will be responsible for CTV requirements, supporting a regulatory review and project management activities over this period. The project is supported by Vattenfall, operators of Aberdeen Bay Windfarm.
Larger vessels considered, too

Lauren Hadnum, Clean Maritime Manager at ORE Catapult, said: "Recharging in field is a critical enabler for the deployment of more electric support vessels. This project is an exciting step in demonstrating not only recharge at sea, but also integration with a working wind farm. We are pleased to be able to support this SME-led project to deliver an industry ready solution for CTVs by 2025."
Crew transfer vessels will be the primary focus of the project, however the concept could also be scaled for oil and gas vessels, as well as larger service operations vessel (SOV) daughter craft which are considered an emerging vessel type set to increase in numbers rapidly as windfarms move farther from shore.