Oil company EnQuest said Friday it had awarded an upper jacket removal contract for its Heather platform in the UK North Sea to Italian offshore services firm Saipem.
The Heather field and its associated Heather Alpha platform are located about 94 kilometers northeast of Shetland, at a depth of 143 meters.
"EnQuest's Heather Decommissioning project is pleased to announce a further significant milestone in the decommissioning of the asset with the award of the Heather upper jacket removal contract to Saipem.
The contract covers all the engineering, preparation, removal, and disposal of the upper part of the jacket in accordance with the submitted decommissioning program," EnQuest said.
Saipem will deploy its Saipem 7000 semi-submersible crane vessel with a combined 14,000t twin crane capacity for the project. The Saipem 7000 will conduct a single lift and transport on the hook of the upper jacket structure. This will include nine conductors, caissons, and riser sections.
The upper jacket and risers will be cut between 74 and 84 meters below Lowest Astronomical Tide (LAT) and recovered to shore, according to EnQuest's decommissioning plan for the upper jacket submitted to UK authorities.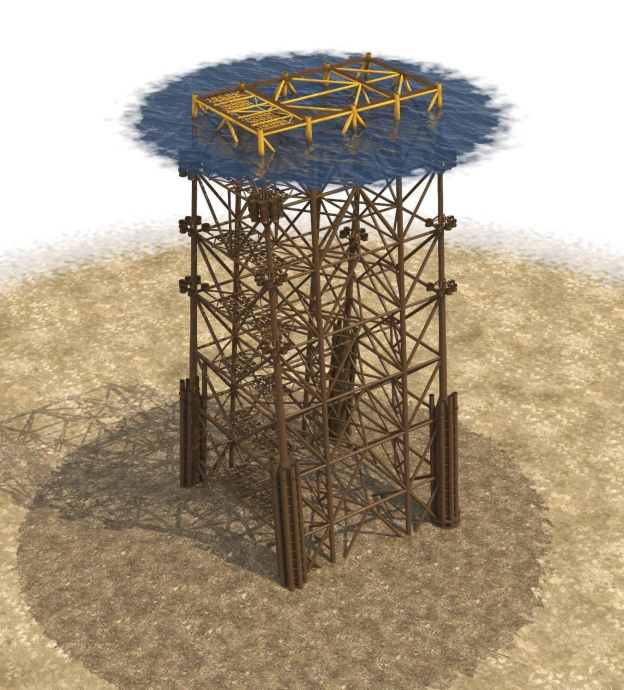 Heather Alpha Jacket Illustration - ©EnQuest
EnQuest awarded the Heather topsides removal contract to Allseas in 2022.
"The two companies will work closely with the Heather decommissioning team to deliver both heavy lift programs," EnQuest said.
Heather and Broom are two nearby North Sea oil fields that were produced through Heather Alpha, a fixed steel offshore platform, with Broom connected via a subsea tieback.
In February 2020, EnQuest confirmed it would not restart production from the Heather field after production was shut down in late 2019.