Norwegian offshore engineering and construction firm Aker Solutions said Tuesday it had won a "sizeable" contract with the French oil major TotalEnergies in Brazil.
The contract is for the provision of the subsea production system, tools, and all related EPCI interfaces for the Lapa South West offshore field construction, in the pre-salt Santos Basin offshore Brazil. The development concept is a subsea tie-back to the Cidade de Caraguatatuba FPSO, using existing facilities and infrastructure. TotalEnergies reached the final investment decision for $1 billion offshore development on Monday.
Aker Solutions will deliver a subsea production system including up to three subsea trees and control systems, tie-in, structures and subsea umbilicals, as well as associated equipment and installation work. Aker Solutions defines a sizeable contract as being between NOK 0.5 billion (currently around $50,4 million) and NOK 1.5 billion (currently around $151,2 million)
The scope also covers EPCI interface management in partnership with Saipem Brazil, and the control system upgrade of the existing Lapa South West subsea trees. Work starts immediately, with deliveries scheduled from the first quarter of 2024 until the fourth quarter of 2024, Aker Solutions said Tuesday.
Maria Peralta, Executive Vice President and head of Aker Solutions' Subsea business said: "We are pleased to be selected to execute the Lapa South West subsea project. The Brazilian offshore market is becoming increasingly diverse with regard to work scope and customer opportunity. We look forward to extending our long-standing relationship with TotalEnergies, as representative of Lapa JV, to the Brazilian market and to further enhance the hydrocarbon potential of Brazil," said
The Lapa field is located in the pre-salt Santos Basin, under the BM-S-9A concession, at 2,150 meters of water depth offshore Brazil. The Lapa Field Consortium is comprised of TotalEnergies (45%), Shell (30%) and Repsol Sinopec Brasil (25%).
At production start-up, expected in 2025, Lapa South-West will increase production from the Lapa field by 25,000 barrels of oil per day, bringing the overall production to 60,000 barrels of oil per day.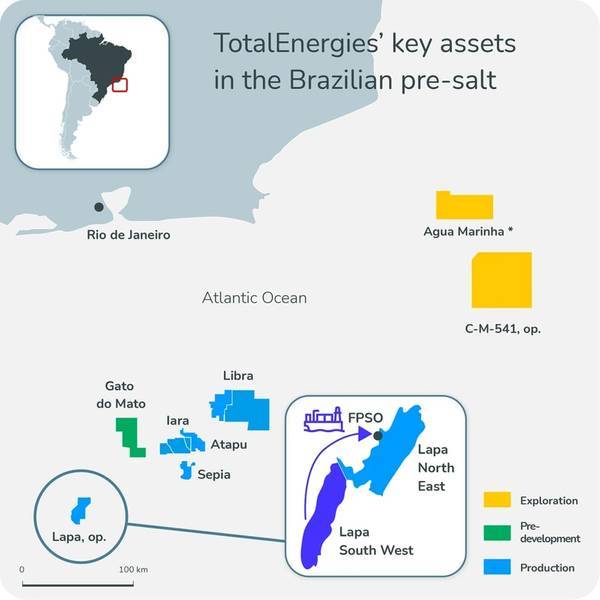 Credit: TotalEnergies