Video: Total's Culzean Project Nearly Complete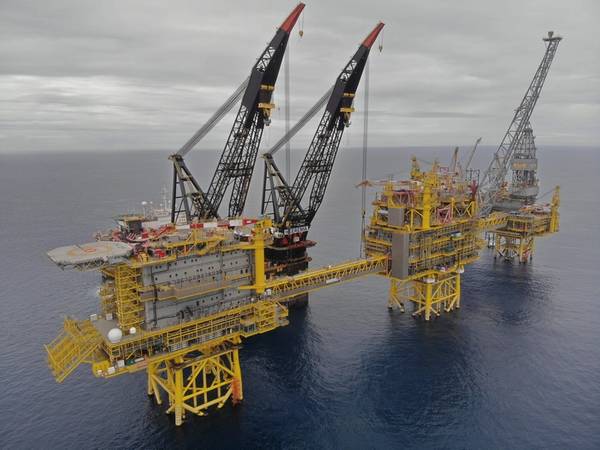 Super major Total said its Culzean Field development in the central North Sea is nearly complete, heading toward expected first production from the largest UK gas field to be sanctioned for quarter of a century in summer 2019.
Culzean is a high-pressure, high-temperature (HPHT) gas condensate field in water depths of 300 feet in the East Central Graben area, located 260 km off the coast of Aberdeen. It consists of lean gas accumulations in sandstone of the Jurassic Pentland formation and the Triassic Skaggerak formation.
With resources now estimated at 250-300 million barrels of oil equivalent, production at Culzean is expected to continue for at least 13 years, providing 5% of total UK gas demand when production is at plateau in 2020.
The project, which includes a standalone three bridge-linked platform development with dry gas export via the Central Area Transmission System (CATS) and liquids export via a new-build floating storage and offloading vessel (FSO), was sanctioned in August 2015, and is being led by operator Total alongside partners BP (32%) and JX Nippon (18.01%).
According to Total, it has been able to reduce project capital costs by $500 million — 11% of the project estimate at sanction — through higher drilling efficiency, robust upfront design, project planning and supply chain deflation.
Culzean timeline

2008
Discovery
2009-2011
Appraisal wells
2014
Concept development
2015
Project sanction
2016
Wellhead jacket installation
2016
Commence drilling wells
2017
Key subsea pipelines, structures and FSO mooring installation
2017
Central processing facility and utilities & living quarters jackets installation
2018
Topsides installation
2018
Riser bases installation and subsea tie-ins
2018
FSO installation
2018
Hook-up and commissioning
2019
Drilling of first three wells complete
2019
Planned first gas