The seismic market is rebounding in fits and starts from its low point a year ago, and seabed acquisition is seeing a healthier spend than towed streamer acquisition, according to ION.
"The seabed acquisition business was growing well before the downturn. Now it's coming back strongly," said Chris Usher, executive vice president and chief operating officer, E&P operations optimization at ION.
He attributes the improvement in that part of the market to the quality of the resulting data and the technology becoming more cost effective.
"Our software business has come back nicely," Usher said. "We have software products that tie to the seabed side of the business."
One of those is 4Sea, which automates the integration of positional data, navigational data and quality check attributes.
ION has also been busy with imaging and reprocessing legacy data, he said.
Chris Usher, executive vice president and chief operating officer, E&P operations optimization at ION. (Source: ION)
"We can reprocess legacy and new data and images with better fidelity of image than possible a few years ago" using full-wave inversion, he said. "We can take legacy data and add a ton of value by reprocessing it and stitching new surveys together."
The towed streamer business has been flat, he said, due to overcapacity in the market. ION provides both hardware and software for towed streamer acquisition.
In a bid to buffer itself from the ups and downs of the seismic industry, ION is "diversifying our technology stack into other markets offshore where we want to get a higher profile," Usher said, adding other sectors in the offshore market can benefit from many of the software and hardware solutions Ion has developed and proven.
One example is Marlin, which Usher refers to as "air traffic control for the marine world." Marlin has been "pretty well adopted" in the seismic industry, he said, but it can be used to help plan operations in other sectors, such as supply vessels and wind farms.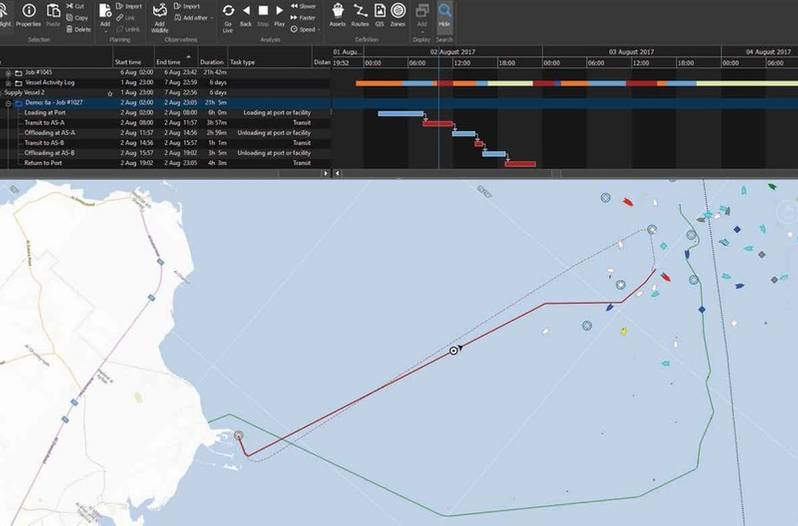 Marlin combines temporal project planning with 3D spatial awareness. (Source: ION)
Across the industry in general, Usher said, there has been a tremendous focus on digital transformation, in terms of "artificial intelligence, machine learning, cloud computing, data sharing, all the buzzwords."
What that means for the seismic industry is a step change in the interaction with data flowing from the multitude of devices and sensors, he said.
ION is, he said, focused on "being a technology company, not so much a seismic company. It's all about data and delivering data to customers in any area to optimize decision making."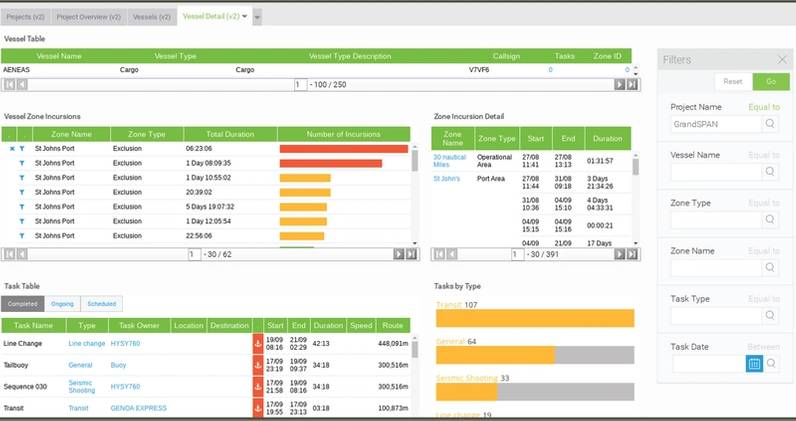 Marlin provides KPI/Dashboard functionality. (Source: ION)