Jan De Nul Group's newest crane vessel, Les Alizés, has started its maiden assignment by installing the first of 107 monopile foundations for the construction of Ørsted's Gode Wind 3 and Borkum Riffgrund 3 wind farms in Germany.
Les Alizés is designed for loading, transporting, lifting, and installing offshore wind turbine foundations. The main features are a main crane of 5,000 tons, a deck loading capacity of 61,000 tons, and a deck space of 9,300 m².
Delivered early in 2023, Les Alizés arrived in the Dutch Eemshaven at the end of June, where the first monopiles were loaded before departing to the installation location in the German North Sea.
In total, Les Alizés will transport and install 106 wind turbine monopile foundations and one offshore substation foundation, including associated topside for the offshore wind farms Gode Wind 3 (253 MW) and Borkum Riffgrund 3 (913 MW) in the German North Sea, developed by the Danish offshore wind developer Ørsted.
Both wind farms will use 11-MW Siemens Gamesa turbines. The Borkum Riffgrund 3 will be located adjacent to Ørsted's existing offshore wind farms Borkum Riffgrund 1 and Borkum Riffgrund 2. Gode Wind 3 will be close to Ørsted's Gode Wind 1 and 2.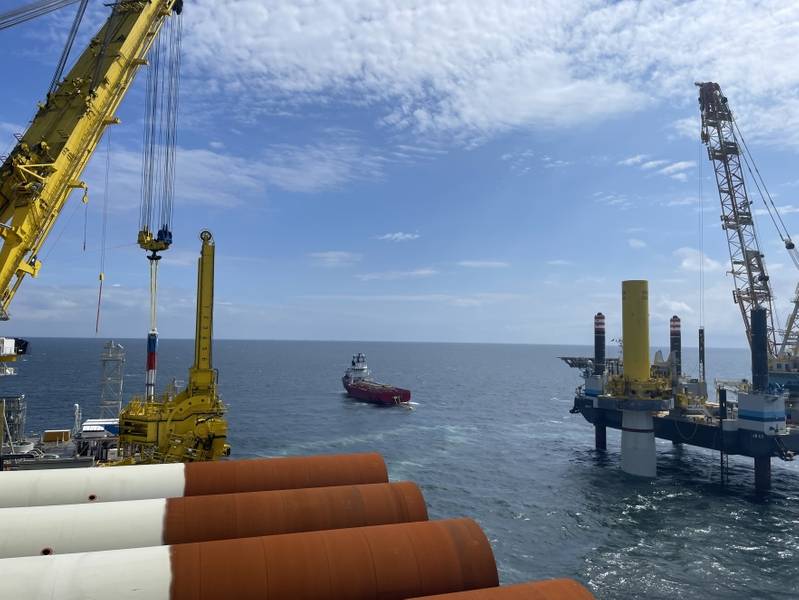 Credit: Jan De Nul
Ørsted will use monopiles without transition pieces. Before installation, scour protection will be installed at all 107 locations.
Once completed, these wind farms will generate enough electricity to power approx. 1.2 million German households every year.
Jörg Kubitza, Managing Director for Ørsted in Germany: "With the installation of the foundations for our two new projects this year, we are laying the ground work for additional, large-scale renewable energy at sea. And thus further establish offshore wind power as a pillar of the energy transition. I am pleased that we have now reached the next milestone. In addition to the required capacities that will have to be installed in the coming decades, our projects also exemplify how offshore wind power can be built out in a value-creating and competitive manner in Germany – if the right framework conditions are in place."
Peter De Pooter, Manager Offshore Renewables at Jan De Nul Group: "This contract is an important milestone for us, as it is the maiden project for our new Next-Gen heavy lift vessel Les Alizés. We are looking forward to install and complete both wind farms in close collaboration with our client Ørsted. Together with Voltaire's first mission and other projects, we are proud to contribute to construct the global transition to renewable energy by installing these offshore wind turbines in the most efficient and environmentally friendly way possible."