Norwegian oil company Aker Energy said on Thursday it has submitted to Ghana a $4.4 billion plan for developing the Deepwater Tano/Cape Three Points (DWT/CTP) block offshore Ghana.
The block's Pecan field, located about 115 kilometers off the West African country in ultra-deep waters ranging from 2,400 to 2,700 meters, is estimated to hold 334 million barrels of oil, with estimated plateau production of 110,000 barrels of oil per day over 25 years, Aker Energy said.
Aker's Pecan plan calls for a floating production, storage and offloading vessel (FPSO) as a center for processing and exporting of crude oil, with a subsea production system (SPS). The field development will comprise of up to 26 subsea wells, including 14 advanced, horizontal oil producers and 12 injectors with alternating water and gas injection (WAG), and the use of multiphase pumps as artificial lift, to maximize oil production.
Aker Energy, which is planning an Initial Public Offering to raise funds for the project, said total capital expenditure for the development is estimated to be $4.4 billion, excluding the charter rate for a leased FPSO.
The operator is evaluating offers from leasing contractors to supply a conversion hull FPSO, and has reportedly received offers from Modec, SBM, Yinson and Bumi Armada, according to World Energy Reports.
The DWT/CTP block is operated by Aker Energy, with a 50% interest, and its partners are Lukoil (38%), the Ghana National Petroleum Corporation (GNPC) (10%) and Fueltrade (2%).
The plan for development and operations (PDO) was submitted to Ghanaian authorities Thursday, and upon approval, the partners will work toward a final investment decision (FID). It's estimated that first oil from the Pecan field will come in 2022, 35 months after the FID is made.
Pecan, the largest of several discoveries in the area, could be tied to subsequent developments later on, Aker Energy said.
"In addition to the FPSO for the Pecan field development, Aker Energy has entered into an option agreement with Ocean Yield ASA for a second FPSO, Dhirubai-1. If the option is exercised, Dhirubai-1 could either be used to accelerate production or for other, potential developments dependent on volumes and geographical distribution of these," Aker Energy CEO Jan Arve Haugan said in a statement.
The Pecan field area holds an additional 110-210 million barrels of oil equivalent (mmboe) of discovered contingent resources (2C), and there is potential for total resources in the area to increase to between 600-1,000 mmboe, provided successful appraisal drilling activity, Aker Energy said. Data analysis and appraisal drilling are currently ongoing at Pecan South and Pecan South East.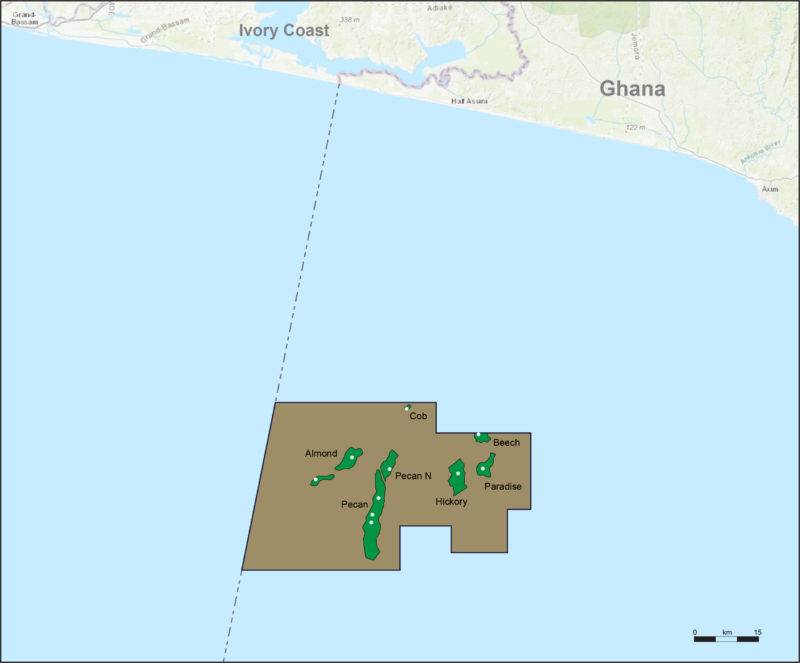 (Image: Aker Energy)