Despite the lingering volatility of global commodity prices, Africa's offshore oil and gas industry has continued to expand, albeit not as fast, opening up more market opportunities for floating production storage and offloading (FPSO) vessel manufacturers and suppliers.
Investment in Africa's offshore deep and ultra-deep space has continued to gain traction with more explorers and producers ramping up their operations, especially in West and Southern Africa where major projects are either underway or have been unveiled awaiting resource appraisal and development.
The growth of Africa's offshore exploration and production activities has been driven largely by the deliberate efforts of governments in the region to provide incentives to unlock the upstream investment opportunities, as well as a growing list of international oil and gas companies keen on finding alternative oil fields to replace the maturing onshore producing sites in countries such as South Sudan, Nigeria and Egypt.
Egypt, for example, is awaiting an exploration boom of its huge offshore oil and gas resources after the signing of three offshore exploration and production agreements with Total, BP and Eni. This came as the North African country was still basking in the glory of the discovery of the largest field in its waters by Italian energy giant Eni. The Zohr gas field in Shorouk concession, discovered in water depths of 1,450 meters in 2015, is the largest natural gas find in the Mediterranean Sea with an estimated 850 billion cubic meters of gas resources.
In oil and gas-rich Nigeria, China National Offshore Oil Corporation (CNOOC) has mobilized a $3 billion investment in addition to the $14 billion already spent on its existing oil and gas operations in the West African country where, separately, France's Total SA is executing what it calls "one of our most ambitious ultra-deep offshore projects" at the Egina oil field in water depths of between 1,400 and 1,700 meters. Total, which had projected the oil field is expected to peak at 200,000 barrels/day, or 10 percent of Nigeria's total production, is partnering with CNOOC, Sapetro, Petrobas and Nigeria National Petroleum Corporation (NNPC).
Nigeria's top oil and gas producing competitor Angola also made progress on its offshore segment when in June Eni announced a new oil discovery in Block 15/06 at the deep offshore Kalimba exploration prospect with an estimated 230 million to 300 million barrels of light oil.
Successful drilling of Kalimba-1 NFW well in water depths of 458 meters by Gemini drillship, led to the discovery that is located 150 kilometers off the coast of Angola and 50 kilometers southeast from the Armada Olombendo FPSO, a vessel built by Keppel's shipyard in Singapore for the Malaysian FPSO operator Bumi Armada, and chartered to Eni.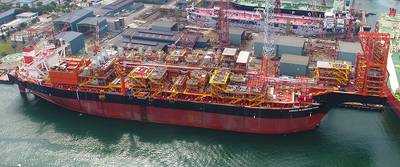 Armada Olombendo FPSO (Photo: Eni)
"The discovery opens new opportunities for oil exploration in the southern part of Block 15/06, so far considered mainly gas prone, thus creating new chances for additional value in the block," said Eni previously. The Italian oil giant is the operator with a 36.8421 percent stake, with partners Sonangol P&P and SSI Fifteen Ltd. Eni said the partners in the coming months will "work to appraise the up dip of the discovery and will start the studies to fast-track its development."
Both Nigeria and Angola top the list of countries in Africa with the highest presence of FPSOs either hired or acquired by various oil and gas exploration and production companies.
New developments have also been announced in offshore Congo (Brazzaville) that are likely to contribute to Africa's overall growth in demand for FPSO vessel services, such as the April 2018 transfer by Oryx Petroleum Ltd of 30 percent of its stake in Haute Mer B exploration permit to Total SA's affiliate for more than $13 million. This was followed later in the year by the launch of the second phase of the 2018/2019 auction of five offshore and five deep and ultra-deep blocks. The tender is set to close in June 2019.
The emerging tendency to convert existing oil tankers into FPSO to cut down on the huge capital outlay for newly built units is gaining traction in offshore Africa.
For example, Eni, the operator of Offshore Cape Three Points (OCTP), an integrated deepwater project in Ghana, contracted Yinson Holding Ltd to convert a petrol tanker at Singapore's Keppel Shipyard for the production and processing of oil from the West Africa country's offshore producing fields.
Elsewhere, BW Offshore recently signed an agreement with Eni's affiliate, Nigerian Agip Exploration, to extend to June 30, 2019, the operation of ABO FPSO, a former 132,500dwt tanker known as Grey Warrior which was converted into an FPSO by Keppel.
Other recent FPSO market activities in Africa include the conversion of two oil tankers by Saipem for the Kaombo field development project in Angola's offshore Block 32 and the conversion by Perenco of an oil vessel into an FPSO for La Noumbi new terminal off Pointe Noire in Congo.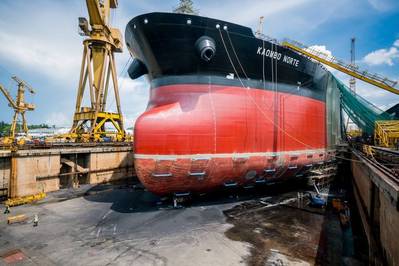 Kaombo Norte in dry dock (Photo: Olivier Raphael / Total)

Perenco said it acquired "an icebreaker petroleum vessel in excellent state, the M/T Tempera, formerly owned by a Finnish company" that will allow it to commence production in the adjacent Masseko field.
At the Egina field, Total has deployed Egina FPSO connected to 44 subsea wells, 1,600 meters deep with production previously slated to commence by the end of 2018.
Some of the FPSO vessels in Africa are owned by Prosafe, ExxonMobil, BW Offshore, Perenco, Oceaneering, Chevron, Saipem, Shell, ConocoPhillips, Blue Water, Zaafarana, BP and Fred.Olsen Production.
With more offshore oil and gas projects coming up in Africa and more international oil companies being driven to deep and ultra-deep water plays by the increasing number of depleting onshore fields, FPSO manufacturers and suppliers eyeing the continent have reason to remain optimistic in the long term.