Damen Shipyards Group has delivered four new Fast Crew Suppliers (FCS) 2610 to Allianz Middle East Ship Management.
The four vessels will undertake work in the ADMA oil field in Abu Dhabi, providing logistics services and safe crew transfer, as part of a five-year contract awarded to ADNOC LS and ADNOC Offshore. The contract will commence as of December 5, 2018.
The handover took place between Ahmed T. Khalil, general manager of Allianz, Menno Kuyt, managing director Maritime Craft Services (MCS) and Pascal Slingerland, Damen regional sales director.
"We are convinced that these new boats are contributing to providing our valued client ADNOC with a safe and enhanced logistic services solution." Khalil said.
Slingerland said, "The FCS 2610 was originally developed for crew transfer in the North Sea offshore industry, but has gone on proven its capabilities on numerous occasions with oil majors in the Middle East region. The further customization of these vessels will ensure their suitability to meet the requirements, both of the client and of operating in the region."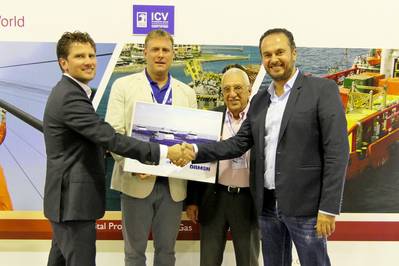 Pascal Slingerland, Sales Manager, Damen Shipyards Group; Menno Kuyt ,Managing Director, MCS; Capt. Sherif Hamdy, Allianz; and Ahmed T. Khalil, General Manager, Allianz (Photo: Damen)
The vessels have been equipped with hydraulically operated bow gangways – the first of their kind. Damen has developed the gangways in cooperation with oil majors and vessel operators. They are adjustable and can facilitate safe crew transfer at any offshore structure with access between 0.5 and 2 meters in height.
The Fast Crew Suppliers were modified at Albwardy Damen to meet the operational requirements of the Middle East. At the same time, the gangways were installed and the accommodation was prepared so that it could host 50+ persons on board.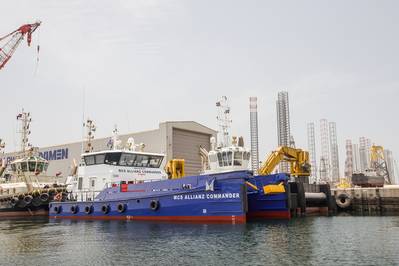 (Photo: Damen)
Allianz has also recently taken delivery of a Damen Multi Cat 3013, built at Albwardy Damen, as well as a Shoalbusters 3209 from Damen Marine Services. The new boats join three FCS 2610 vessels already in operation with Allianz. Kuyt's participation in the signing ceremony relates to a cooperation between Allianz and U.K.-based MCS for the operation of Allianz's FCS 2610, Multi Cat and Shoalbuster vessels. MCS operates a fleet of FCS 2610 vessels in the North Sea and is very experienced in crew transfer operations.