Australian Icebreaker Floats Out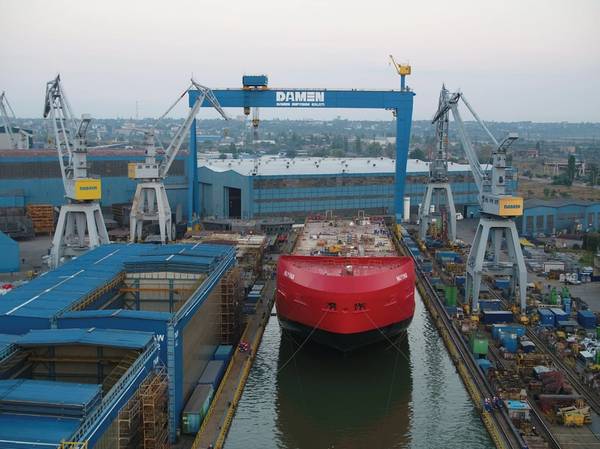 The new Antarctic Supply Research Vessel (ASRV) RSV Nuyina currently under construction at Damen Shipyards Galati in Romania has been floated out and maneuvered 250 meters to a quayside berth where the ongoing construction and outfitting process will take place.

Damen is building the 160-meter-long icebreaking vessel for Serco subsidiary DMS Maritime on behalf of the Australian Department of the Environment and Energy. The multi-mission vessel will keep Australia's three permanent research stations on the Antarctic continent and its research station on Macquarie Island supplied with cargo, equipment and personnel. Additionally, it will serve as a fully equipped research laboratory facility for up to 116 scientific staff.

Construction of the vessel began in August 2017. Building from the keel up, the build process has reached the fourth deck level in that time. Now that the vessel is afloat, construction will continue with the positioning of prefabricated superstructure blocks, bringing the finished vessel to its full 10-deck height of just over 50 meters.

The construction process is calling on input from two different Damen yards: Damen Schelde Naval Shipbuilding in the Netherlands is providing engineering and project management services, and Damen Shipyards Galati is carrying out vessel construction and outfitting tasks.