FPSO Market to Turn Around: Rystad Energy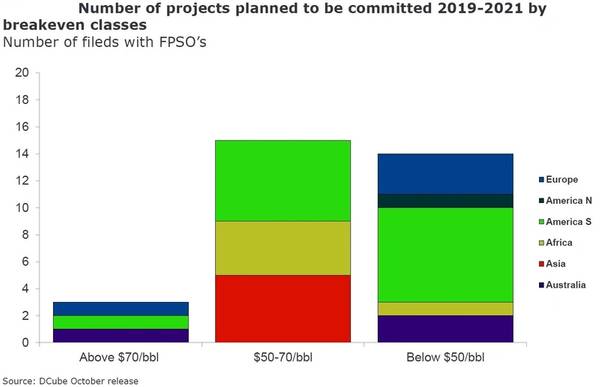 The global floating production storage and offloading (FPSO) has stirred back to life after enduring a couple years in virtual hibernation during the downturn, said Rystad Energy research.

With six new FPSO orders worldwide 2017 brought some relief to the market and momentum has picked up further this year, buoyed by higher oil prices, technological advancements and lower costs, it said.

According to Rystad Energy research more than 30 FPSO projects could reach FID between 2019 and 2021.The cost-cutting efforts implemented during the downturn are a major contributor to the favorable economics of most of these projects.

Fourteen floater projects have a breakeven of below $50 per barrel, while 15 more come in at between $50 and $70 per barrel, the report said.

The pipeline of projects indicates that FPSO awards are set for a strong comeback, driven in particular by South America.

Europe and West Africa are also set for a rebound in floater awards. This year, two FPSO projects have already been confirmed: Fluor secured the contract for a newbuild FPSO for Shell's Penguins project in the UK and Teekay Offshore won an order for the redeployment of the Petrojarl Varg FPSO for Alpha Petroleum's Cheviot project, also in UK waters.

Looking beyond this year, numerous FPSO awards are shaping up for final investment decision. Siccar Point Energy recently awarded Crondall Energy a frame agreement to support studies for the Cambo oil field west of Shetland.

However, in spite of some hurdles on certain projects, the overall picture for the FPSO industry is bright, with dozens of new field development projects to pursue over the next two to three years. A key challenge going forward will be project execution and cost control.