OSVs Help to Power North American Maritime Fuel Transition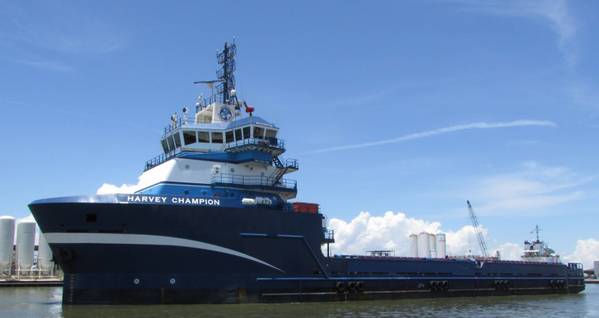 The fuel switch in maritime is on, its real, and it will be driving vessel design, construction and operation decisions for decades to come. While many still debate the merits of each alternative fuel, OSV industry leaders are at the forefront driving change, and they need to be, as in North America alone OSVs makes up 17% of the fleet but contributes 29% of the maritime emissions.
In the next edition of Offshore Engineer, Barry Parker takes a deeper dive on the plans underway to wean maritime operations off of fossil fuels. Excerpted here are insights on the current OSV emission situation.
Offshore service vessels, along with workboats serving harbors and the inland rivers, have embarked on an industry-wide voyage toward reduced emissions of greenhouse gasses. Professor Craig Philip, a faculty member with Vanderbilt University's Center for Transportation and Operational Resilience (VECTOR) and former CEO of Ingram Barge Company, provides this context: "The Maritime Sector has long provided shippers with the most fuel efficient and sustainable freight transport option and it has been very exciting for our team here at Vanderbilt to be engaged with the maritime industry as it embraces new technologies that further also reduce greenhouse gas emissions. And we are particularly proud to be a founding member of the Blue Sky Maritime Coalition (BSMC)."
Founded in 2021, BMSC is a coalition of North American stakeholders with a specific focus on accelerating the transition of waterborne transportation in Canada and the United States toward net-zero greenhouse gas (GHG) emissions.
In July of last year, it laid out the overall decarbonization challenges for North America. In its publication, "North American Waterborne Transportation Carbon Footprint," BSMC notes that OSVs comprise approximately 17% of the North American fleet, and are the largest single contributor to North American maritime emissions (with maritime CO₂ pegged at 47 million tons in 2018), amounting to 29% of total emissions, as the vessels have relatively high fuel consumption and utilization. The second largest sector for CO₂ emissions is the inland tug and pushboat sector, responsible for 9.3 million tons or 19% of total emissions; followed by the coastal and harbor tug fleet and ferries, with 6.8 million tons and 6.4 million tons respectively. The BSMC compilations suggest that tankers and Articulated Tug-Barges (ATBs) account for just 3.1 million tons or 6% of total CO₂ emissions in the North American maritime marketplace.