Naming Ceremony Held for Edda Wind's CSOV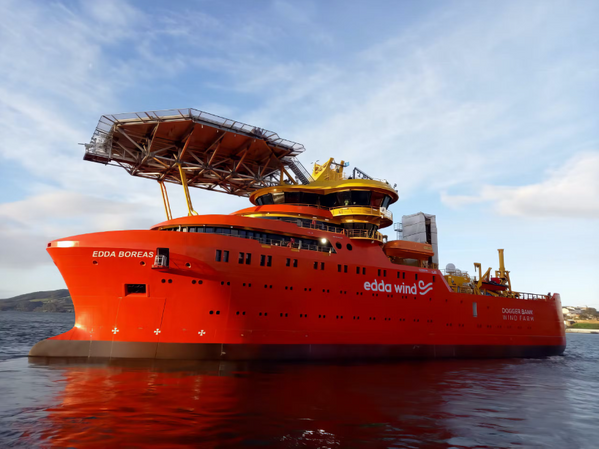 Edda Wind, the Norwegian offshore wind vessel owner, held a naming ceremony for its "Edda Boreas" commissioning service operation vessel on Saturday.
The traditional ceremony where a bottle of champagne was sacrificed for good luck took place at Gondan Shipbuilders in Spain. "Boreas" comes from the god of northerly wind in Greek mythology.
The Edda Boreas is a purpose-built Commissioning Service Operation Vessel (CSOV), prepared for emission-free operations with a hydrogen-based propulsion system.
The vessel will serve as a mother ship for wind turbine technicians as they perform commissioning and maintenance work on offshore wind turbines. The CSOV are 88,3 meters long and can accommodate up to 120 people.
In the second quarter of the year, the Edda Boreas will start a two-year firm contract at Dogger Bank wind farm which is located about 130 km off the northeast coast of England.
Once operational, the offshore wind farm will be the world's largest, with a 3.6 GW capacity. It will be capable of powering 6 million British households.