Using produced liquids in a wireless completion
Tendeka's PulseEight re-deployable wireless completion systems have been deployed in a number of areas to carry out downhole functions. The PulseEight Ambient Valve has recognized safety incidents and closed wells to maintain safety in its North Sea deployments.
PulseEight is a reservoir management system that relies on Fluid Harmonics, using produced liquids or gas, to communicate in both directions and provide downhole control wirelessly. Deployable via slick or wireline, the wireless completion can be installed when required. Traditional completions are resident in the well for the life of well even though it will sit dormant, notes Paul Lynch, Tendeka's advanced completions director.
"There's no reason it has to stay in the well after it has served its purpose. We can redeploy where it will serve more value," Lynch says. "The biggest concerns we are seeing from the customers is around the concept that downhole completions systems are purchased for the life of the well. We're trying to break new ground with what we're doing."
In many cases, traditional downhole tools may be dormant in both the early and late stages of the life of the well.
"You've got that tool in there doing nothing," he says. PulseEight integral control valve (ICV) or wireless gauges can be retrieved and redeployed to locations where they can deliver more value, he says.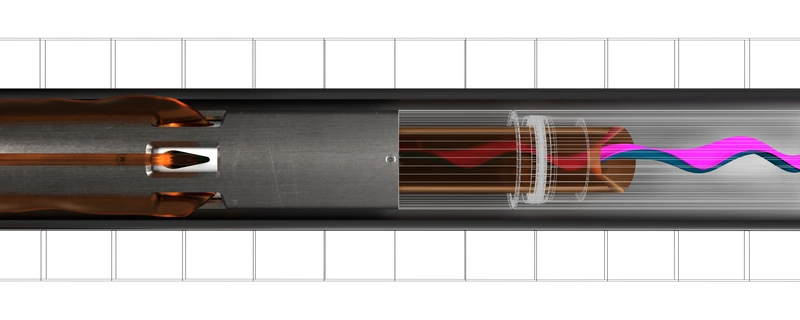 Tendeka's Fluid Harmonics turns produced fluids into a two-way communication system. (Image: Tendeka)
The system monitors and controls the flow of the well without the need of surface intervention or communications, Lynch says.
"It carries out these functions autonomously, removing the need for engineers to constantly communicate with the system, allowing them to operate on their own to control the well," Lynch says.
Doing so, he says, requires a robust communication method that can transfer information in both directions. Tendeka developed Fluid Harmonics production telemetry, which relies on the manipulation of the flow regime at either end of the flow stream to elicit a pressure change noticeable at the other end.
"By monitoring pressure, we see the peaks and troughs created by this flow manipulation, and PulseEight surface equipment or downhole tools automatically monitor and analyze those wave forms," he adds.
The transfer of information has minimal effect on the flow of the well, he says, and the process doesn't require anything to boost or repeat the signal.
Suzanne Stewart, Tendeka's vice president for North and South America, says the tool has been used as an alternative for a storm choke. Traditional storm chokes need to be retrieved periodically to ensure safety, which poses a significant cost, she says. Verifying PulseEight is functional is a matter of receiving a regular unique vitality pulse to tell the condition of the tool and power source, she says.
The system evolution started with a downhole wireless gauge, which was proven to send signals in North Sea gas wells. Following that, a suite of tools, including an ICV and the electronic ambient valve, Lynch says.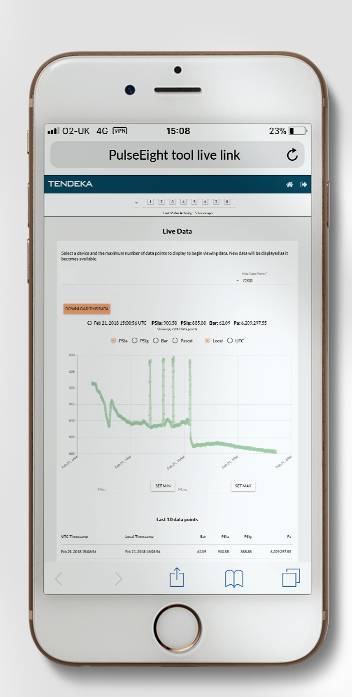 PulseEight wireless communication from well to smart phone (Image: Tendeka)