Xervo by SH Group, the producer of the approved conventional NORSOK lifeboat systems, The Boat-In-A-Box davit system, said it has signed a contract for the first option with Awilco Drilling. Like the first order, the option includes the delivery of four 75-personnel on board (POB) complete sets of lifeboat davit systems and one fast rescue boat (FRB) davit system to be delivered at Keppel Fels shipyard in Singapore for mounting on the rig.
The Boat-In-A-Box davit system is a fully insulated and air heated closed box performing to -20 degrees Celcius (arctic environments). It is fully operational during electrical shutdown and capable of withstanding extreme weather conditions. It is approved for an installation height of 100+ meters and is approved by DNV GL and meets all offshore regulations outlined in MODU, the Petroleum Safety Authority Norway (PSA) rules, SOLAS requirements, the LSA code and NORSOK.
The delivery is a breakthrough in the industry.
The Boat-In-A-Box davit system is the first NORSOK R-002 lifeboat equipment delivery for a semi-submersible drilling rig, capable of operating on the Norwegian continental shelf (NCS). It is the second generation of the unique Xervo Boat-In-A-Box davit system suitable for marine and offshore applications.
After seven years of development based on feedback from rig personnel, shipyards and several oil majors in the northern region working with the system daily, the result is a modified and improved construction taking operational factors, maintenance and safety onto a new level. The system has got superior safety level with purely mechanical back-up functionalities, at the same time yielding a reliable system which can be used in no-power conditions.
The system protects the boat, the winch, the hook system, as well as all components and wires. The modular concept means easy installation and easy maintenance, which reduces cost-of-ownership over the lifetime of the system.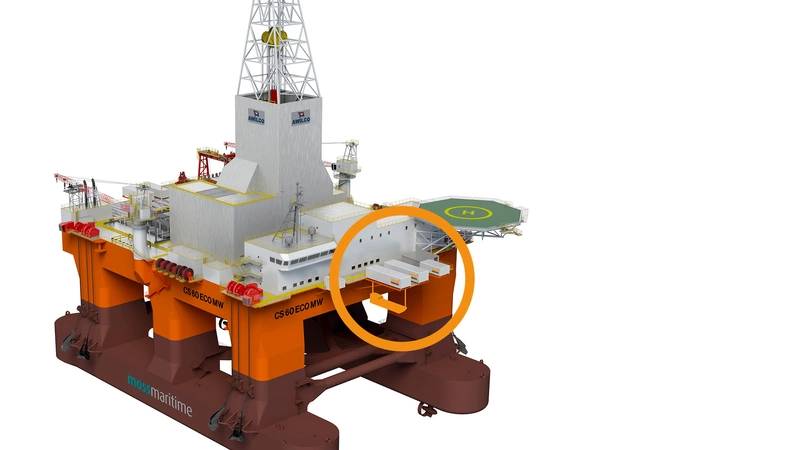 (Image: SH Group)
Kent Vinkel, General Manager, SH Group, said, "This is a breakthrough when it comes to having a conventional lowering evacuation system on a semi-sub, is going to operate on the NCS. The general perception and understanding in the industry are that the rules require free-fall lifeboats on semi-sub operating on the NCS. That is not the case. In fact "Sdir 90/16 redningsforskriften", describes additional requirements for conventional lifeboat systems, e.g. §22 and §30." and the PSA Regulation "the framework regulations" §3, allows for the maritime regulations to be used. The PSA can, however, stipulate additional requirements on safety-related issues."
"In this case, an availability study has been made for this particular rig design, proving under which condition it is possible to evacuate in a 100-year storm — a study consist of, e.g. lowering study and sail away study. With the result of such a study, the rig operator knows exactly how to react under various condition," Vinkel added.