Fully-automated drilling aboard a semisubmersible or jack-up drill rig powered by batteries has just become a reality. As May 2019 got underway, new, modern rigs were being ordered on more exploration, and no fewer than eight modern rigs — seven semisubs and a jack-up — were known to be mobilizing for drilling campaigns after upgrading along the way with digitalized automation and/or battery power. At stake for operators are faster, cheaper completion times, green credentials and the ability to offer the recruitment pool a safer, "cloud-friendly" workplace.
At stake for rig owners in Norway, at least, is the right to drill here as well as rebates on 80% of green investments from Oslo' NOx Fund, an incentive scheme for businesses to reduce nitrogen oxide (NOx) emissions. That's the reason Denmark-based Maersk Drilling and Norway-based Northern Drilling are now upgrading their "sixth-generation" and "seventh-generation" drill rigs to the world's first battery powered offerings.
Egged on by clients like Equinor and Wintershall Dea, Maersk is combining the hybrid power with ship-style energy emissions efficiency software to manage and monitor the power levels and the sharing between main engines and electric DP power. The new electrical aboard the five-year-old, "ultra-harsh environment XLE jack-up" Maersk Intrepid will pave the way for "all-electronic" automation systems. For now, though, "data intelligence" will be applied to lower fuel consumption and emissions for Equinor at the Martin Linge field. Maersk's unnamed system integrator will not perform the electrical upgrade at a yard but "on the water", as the rig is already under contract.
In December 2018, Northern Drilling took delivery of the West Mira semisub. When we contacted Northern CEO, Scott McReaken, the rig was leaving a sheltered Norwegian shipyard after being equipped for more automation and new battery power and McReaken was getting dressed for OTC in Houston. A most-modern semisub, West Mira is equipped to get wells drilled and completed in record time.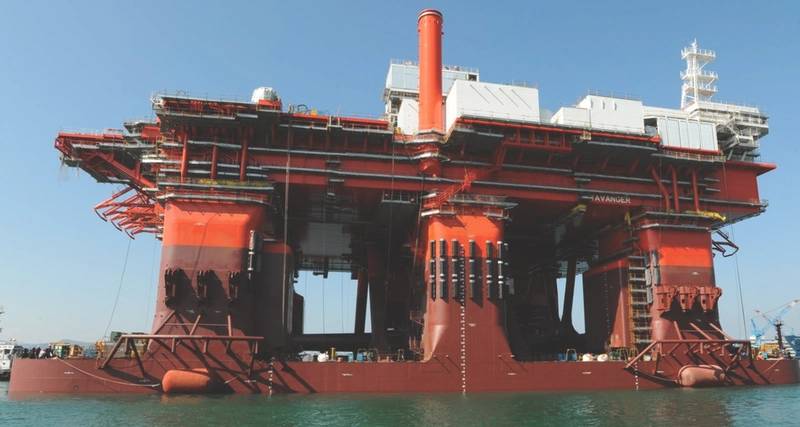 The first automated, hybrid semisubmersible drill rig: West Mira (Photo: Northern Drilling)
McReaken was feeling the pride of a new car owner: "About 30% fuel efficiency is expected plus a similar reduction in NOx. That means we qualify to join the NOx Fund, and if we deliver and show the reductions, we'll get a partial reimbursement [on the investment in battery power]."
Yet, fuel efficiency is only a part of the savings for Wintershall Dea at the Nova field. "We're leveraging the technology big-time. The beauty of the rig management system and the drill tech is that other drilling efficiencies come into play on pipe-handling, data-collecting from wire, etc. It's a seventh-generation rig that allows us to put all sorts of technology onto it. Seadrill ordered it that way. We bought it from the yard."
According to a future-tech report by DNV GL, more efficient drilling — and by 2025 automated drilling operations — will be "in operation". It suggests these are early mover steps taken by rig contractors at the request of oil companies wanting to comply with new Norwegian emissions standards as well as the fuel savings and "online" drilling that can yield detailed well and reservoir reports (see Schlumberger) in real-time enabled by emerging digital drilling equipment.
Early movers
"There's no one tech in particular, but a wholistic approach to making a difference for their customers," says AGB Sundal Collier rig analyst Lukas Daul about the trend of rigs becoming more competitive by loading up on the latest kit. "The ultimate goal being to lower or speed up the time needed to drill the well and to lower the overall cost from the well. That's the mantra."
We chat about the other rigs now also upgrading — Odfjell's, Awilco's, Transocean's, EnscoRowan's — the work being done under new drill-tech alliances and licenses and by industrial affiliates linked by ownership shares. Early out was Seadrill, original commissioners of the West Mira specs. In August 2018, they hired Kongsberg Maritime and Kongsberg Digital to put real-time monitoring systems aboard the semi-subs West Hercules and West Phoenix. The goal was to put everyone's expertise online for the benefit of look-ahead drilling ops, preventive maintenance and well safety, with well history data built-in for electronic Well Specific Operational Guidelines, or eWSOG. Odfjell Drilling was quick to follow suit and hired Kongsberg Maritime for its own real-time "advisory solution" aimed at augmenting safety and eliminating downtime for the sixth-generation semisub Deepsea Stavanger, which could then benefit from shore-based online expertise for operations in remotest offshore South Africa. A Kongsberg riser management system and a Kongsberg information management system were part of the package.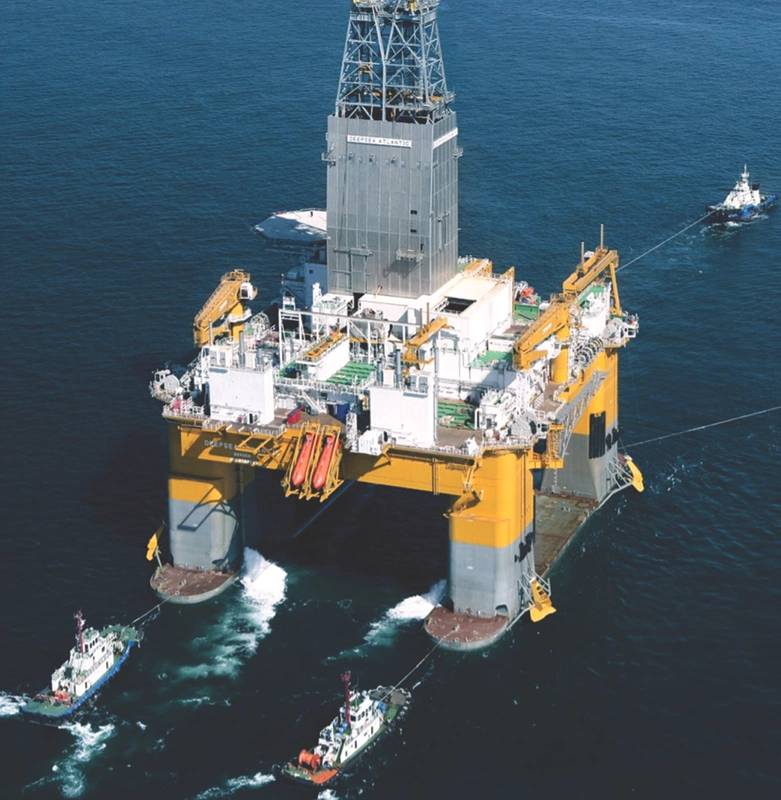 The Deepsea Stavanger semisub (Photo: Odfjell Drilling)
It's easy to see how the battery powered West Mira and Maersk Intrepid then pile on the savings for operators — and that's what's happening. In April 2019, Equinor informed shareholders that it was drilling more wells faster and for 10% less money than a year ago, while spending more "quality time" testing. Whatever the Big Data being derived from each spin of the drill bit, a Lloyd's Register report called The Technology Radar suggests oil companies really believe a rig's predictive analytics are saving "$325,000 per rig using machine learning to predict drill-bit locations."
"In the end, I don't see one particular feature being a game-changer, except, perhaps, digitalization and automation," says Daul, who watches rigs all day for institutional investors, and who had just returned from a tour aboard a rig receiving a digital upgrade at a yard near Bergen.
New standard
For deepwater heavyweight Transocean, the move to automate became more frenetic in February 2019, when management decided to upgrade five offshore rigs with centralized automated drilling control (ADC) which reins in the best of drill-tech suppliers, MHWirth, NOV and Sekal for "higher rates of penetration while drilling, highly stable bottom hole pressures and avoiding (surge) effects and early detection of (kicks)". The Transocean Enabler was the testbed of a first ADC system in 2017 and immediately delivered faster turnover times for Equinor. Well integrity and safety benefited from countless electronic tags or sensors that comprise an early-warning. As we write these lines, the Transocean Spitsbergen, Transocean Norge, Transocean Encourage, Transocean Equinox and Transocean Endurance were all upgrading to ADC.
While NOV is known for its already digitalized drilling control packages, the Akastor-owned MHWirth is known for big-hardware items like tensioners and hydraulic cylinders. Yet they, too, are busy applying automation and a new line of electric-hydraulic rather than purely hydraulic riser and string tensioner systems. That'll provide more force with less energy while integrating with control electronics. Sister companies in the (Akastor investment family) include drillers Awilco and Odfjell.
Model-based automatic drilling-control company Sekal will embed its DrillTronics software in the drill-control systems (DCS) of all five Transocean rigs slated for upgrades. This will automate most of the driller's repetitive tasks by controlling draw works, top drive and mud pumps to avoid wellbore events. Preventively, the software determines the possible actions of a driller — string accelerations, speeds, rotation, pump startups and flow rates — to stabilize downhole pressure. This early detection and instant avoidance of "deteriorating drilling conditions" has solidly preempted a range of the costliest drilling mishaps and minor events. So, package item DrillTronics, alone, seems able to cut drill times by from 4% (Equinor) to 8% (some say 20%). The trouble for some is that they can't have it unless they're already somewhat digitalized.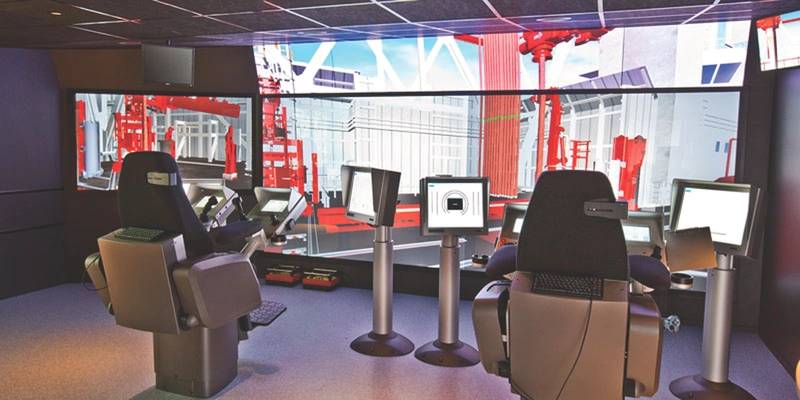 Automated rig: from the derricks to the work station (Image: Equinor/MHWirth)
West Mira
"I think it's a good thing," McReaken says of automated drilling. "The safer we do it, the better. The quicker we do it, the more efficient the drilling effort becomes. The bonus is that there's a structural change as well, as the focus changes to drilling and completion times rather than just drill rates."
One of the reasons Northern Drilling pursued the battery powered West Mira was to have a low-emissions, modern rig with the digitization to enable the best that automated drilling brings.
"We saw the potentiality in understanding what our equipment and especially what the drill bit is doing and in working more efficiently. It's a trend, a change," McReaken says, adding, "Manual [drilling] breaks are still out there, but they're not drawing a premium, and they're not garnering the relationships or contacts we have."
Meanwhile, another rig — the Deepsea Stavanger of Akastor-owned Odfjell Drillig — is on its way to the arctic having stopped at a Norwegian yard for its e-upgrade. It reportedly has "third-party" drilling equipment on board, and that could be MHWirth's, although another Odfjell business division makes its own drill-tech.
With many rigs having been scrapped, those that remain are extra competitive for providing the savings, compliance and holistic digitalization that operators want. Apart from sensory data from the drill bit in real time (again, see Schlumberger), operators employing digitalized rigs can now see the promised benefits of predictive analytics, as more engineering outfits present digital, analytical software tools covering the derricks and the drill floor.
The upgrades are just in time. Oslo says there's $31.12 billion in exploration, production and appraisal wells to be drilled between 2019 and 2021 by rigs and platforms: 60 exploration wells this year alone. That has tightened up rig markets, and only the truly digital seem to be getting any work.
"One advantage we have is that we're not having to catch up [technologically]," says McReaken. "It's cool that we can embrace this now. We've been talking about it for so long. It's great that we can bring it all and tie it in."
Some rig contractors, however, ordered advanced rigs years ago and are only now, because of 'The Downturn', diving into the automation they ordered. And then there are the modern, if not-brand-new, rigs.
"It's not like you can take a 30-year-old rig and turn it into PlayStation. Not having a more automated process to begin with is the difference between new assets and old assets," McReaken says.
"With sensors tracking everything, you get a heads up with a newer rig. How many sensors? Maybe 15,000 on a newbuild, or two on a 20-year-old rig," he adds. "That sort of sums it up. Just talk to the engineers. They can talk about it all day long."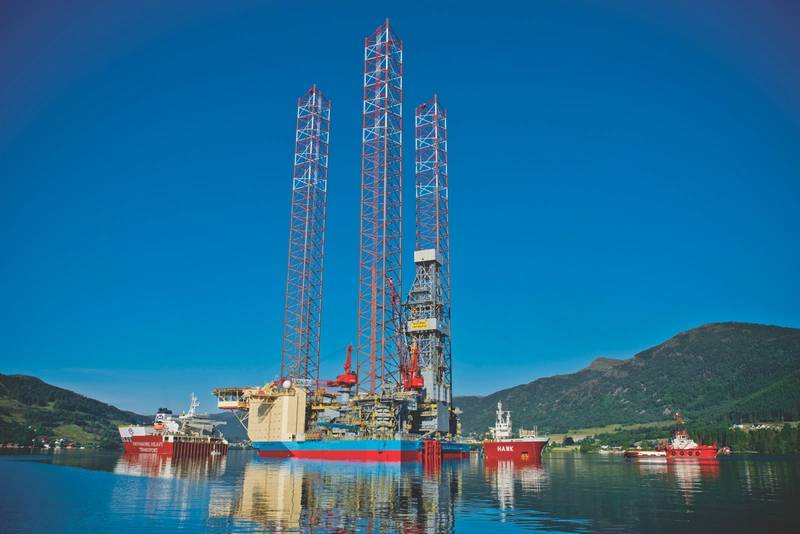 The first hybrid jack-up: Maersk Drilling's Maersk Gallant jack-up (Photo: Maersk Drilling)